HOF Sonderanlagenbau GmbH has been a leader in freezer technology since 1988 under founders Hans-George Hof and Herrmann Schäfer in Lohra, Germany. Through technical knowledge and entrepreneurship, HOF has grown into a global freezer and service operation, specializing in freeze-drying systems for the pharmaceutical and biotechnology industries, serving 28 countries, with 40 customer sites and more than 100 freeze/thaw units serving the biotech and pharmaceutical market.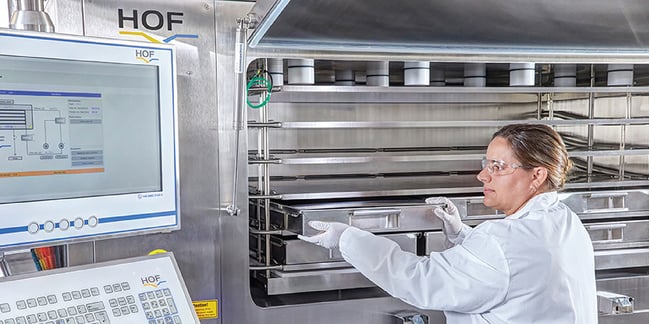 This impressive legacy of technology leadership serves as a strong foundation for HOF's partnership with Entegris. However, the real backbone of our collaboration is our common approach to serving the needs of customers through tailored manufacturing solutions, customer service, and flexibility. This alignment of values is a direct extension of our product offerings for cold storage and transport, offering customers the opportunity to leverage our cold chain supply expertise to optimize processes, increase speed to market, and reduce costs.
As the pioneer in providing freeze/thaw units for pharmaceutical and biotechnological applications, HOF is at the forefront of sustainability initiatives. Its 4 refrigeration systems (synthetic refrigerants, liquid nitrogen, natural refrigerants, and air-based systems) can be used all over the world, including Switzerland, which has the strictest environmental regulations. Setting the standard for sustainability, HOF implements stringent environmental protections throughout its offerings, saving both the planet and its customers excessive resources.
"The partnership with Entegris is part of our long-term strategy to take advantage of the synergy between both parties and bundle the specializations of the partners based on loyalty, respect, and trust to provide state-of-the-art solutions for our customers," shared Alexander Hof, CEO of HOF. "Further, the Tech Center at Entegris' headquarters in Billerica enables our U.S. based customers to get in touch with our equipment to leverage cold chain expertise, optimize processes, reduce costs, and accelerate time to market."
Our Life Sciences Technology Center, located in Billerica, MA, features HOF freezers and offers life sciences customers the opportunity to leverage our expertise on cold chain supply challenges to optimize processes, reduce costs, and increase speed-to-market. The world-class laboratory brings our tools and technologies together in one place, where customers can test equipment for freeze/thaw processes to determine which products best fit their needs.
This collaboration is yet another example of leveraging partnerships to advance freeze/thaw technologies in biopharma, and Entegris is committed to continual growth in the advancement of cold chain development through our ongoing investment in both technology and resources.
Learn more about our Technology Center and HOF Freezers.