Like the human body, cell and gene therapy is complex. Specialized cells can be lost through age, injury or disease, and such loss cannot always be replenished by healthy cells, rendering the patient extremely sick or even fatally ill. In many cases, the patient has minimal time to live, with very few cells for transplantation. Thanks to advances in both cell and gene therapies, patients have options as these interventions continue to advance. Cellular therapy includes immunotherapies, vaccinations, and cancer vaccines. While gene therapy aims to modify or alter the biological properties of living cells for therapeutic use. As these interventions are distinct, their manufacturing processes often intersect, leaving opportunities for therapeutic enablement.
With complex therapies comes even greater demand, especially from patients with incurable diseases. These patients are often in multiple clinical trials and are at the mercy of regulatory approval to fast-track treatment. In cell therapy, there are two paradigms for treatment, allogeneic: the cells of a donor or donors are used to create the therapy and can treat a population of patients in the autologous method: the patient's own cells are used for the treatment usually with a modification performed outside of the body. CAR-T cell therapy is one type of autologous treatment, which is the equivalent of giving patients a 'living drug'. By using the patient's own cells, this therapy minimizes the chance of rejection, however when using the cells of a very sick patient the supply chain and production process can introduce many challenges, including: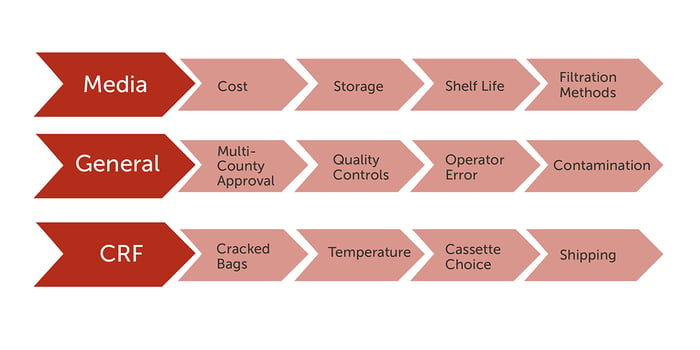 Cell and Gene Therapy Production Challenges
Since cell therapy bioprocessing is in its early stages, the challenges from automation, access to specially tailored closed system bioprocessing technologies, high demand, and cost continue to hinder progress.
How can we help solve these complex cell and gene therapy production challenges? Through single-use technology, we can help process development engineers, chemistry manufacturers, and controls (CMC) professionals dial in the single-use technologies and tools they need for cell expansion, harvesting, intermediate storage and processing, and especially cold chain. When it comes to choosing specialized materials, Entegris' experience developing and delivering high-purity materials for challenging manufacturing processes can help avoid pitfalls and ensure that users have long-term success. Our support extends to assistance in clinical and commercial ramp-ups, scale-up or scale-out services, establishing testing and validation requirements, and ongoing single-use material selection.
Our portfolio of single-use products for cell and gene therapy begins with Aramus™ single-use bags, an assembly that protects expensive drug product in frozen shipment , reducing the risk of costly product loss. The high-grade, gamma-stable fluoropolymer material maintains flexibility at temperature as low as -196°C (-321°F) allowing more robust storage and shipment in ultra-low temp applications​. It also has resistance to solvents and highly concentrated chemicals, with a high potential for inert storage and processing (e.g., DMSO compatibility). Aramus bags are especially suited to low-temperature cold-chain applications (-80°C [-112°F]), they possess low extractables & leachables, and they are devoid of plasticizer, which protects final product purity. We offer customizable options for tubing, ports and end connections, and a robust shipping system for dry ice-based transport and liquid nitrogen-based transport or anything in between. Another advantage of the fluoropolymer material is that product does not stick to the Aramus bag like other single-use solutions, which is especially critical during time-sensitive therapeutic manufacturing.
For cell separation, our mesh bag microcarrier and cell separation system is an easy-to-use, customizable, and economic solution for microcarrier removal, cell aggregate dispersion, particulate reduction, and even tissue culture purification and polishing. For cell expansion, our 2D motion/rocker assembly is a customized, potential "plug and play" rocking bioreactor capable of handling the complete range of processing volumes for cell-based therapeutic production.
All our 2D and 3D bioprocess assemblies can be used for media storage, cell culture bags during static incubation, or transfer bags to serve as intermediaries in process hold steps.
Helping solve multifaceted cell and gene therapy requirements is what drives us. Let us help you optimize each step of your single-use process, so you can develop life-sustaining therapies that are needed most.
Visit our website for more information on our cell and gene therapy solutions.